20/12/2021
The Quireboys - Unplugged
Review by Darius Drewe
---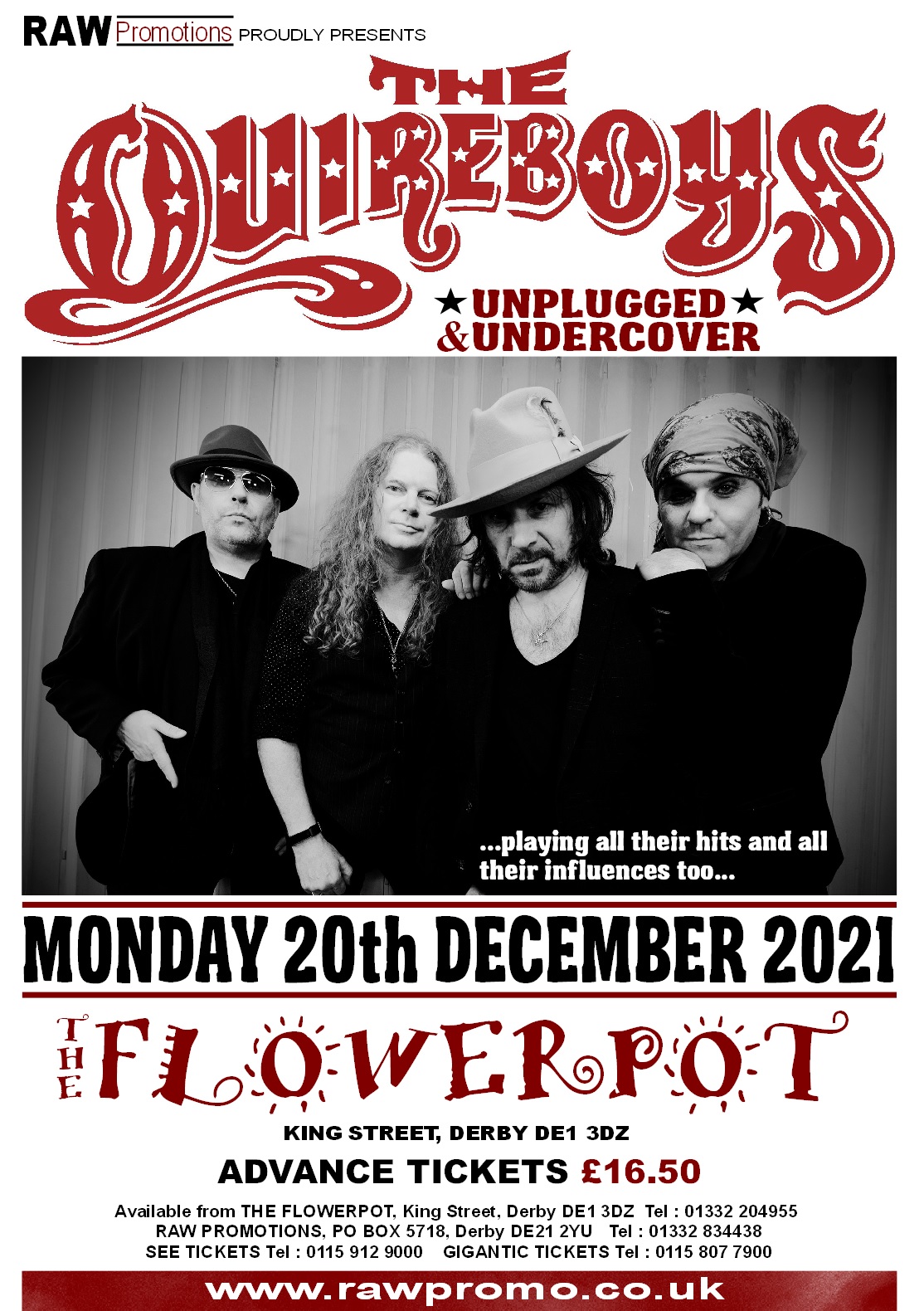 Well well well, what do we have here? ANOTHER un-cancelled gig.
Proving conclusively [as last night's Sweet show in Notts proved] that at times of national crisis all true rockers simply keep on rocking regardless, the Quireboys – always as much of a Midlands band as they ever were a Newcastle or London one – brought something to Derby tonight that had been missing from my life for far too long. In fact, it has to be said, I was even beginning to forget what it felt like. Namely, joy: only a tiny word perhaps, but in today's climate, so important, and one which makes me really wish I'd gone to see them far more often in the last few years. Then again, the fact that they consistently seem to be playing somewhere in the E-Mids or the W-Mids at least once a month, year in year out, may also explain why I haven't done that: with Spike, Guy and the boys, there's always a next time, and true to form, I've only been at the Flowerpot five minutes before our kindly local promoters Alan and Lisa are thrusting me flyers for the frontman's forthcoming solo show at the same venue. Which, on reflection, I should probably go to as well- especially given that this evening's show later transpires to be considerably, if not entirely, different to what I initially expected….
Allow me to elucidate. As the posters and promotional online material had touted the show as "Unplugged and Uncovered", the underlying implication was that in addition to several of their own tunes, the QBs would perform selected numbers by artists that had influenced and inspired them: thus and therefore, my rough guesswork had suggested eight or nine self-penned compositions peppered with a cross-pollination of cuts by the Stones, the Faces, Humble Pie, Slim Chance, Frankie Miller, Free, UFO, Dylan, Curtis Mayfield and possibly Tom Waits alongside the odd blues standard or two [as on their 2017 collection White Trash Blues] and the occasional downhome country stalwart. Hell, there was even an outside chance, what with Spike's Geordie origins, that a song from the master himself, Alan Hull, might surface. Either way, it definitely sounded interesting- and even as someone who's not generally the world's biggest fan of covers gigs, my curiosity was [naturally] piqued.
Yet as the evening elapses, it soon becomes apparent that we're getting nothing even remotely like that. Granted, they've got the 'unplugged' bit right, but instead of any archival trawls through rock's chequered history book, what we're instead treated to is practically EVERY song – only Man On The Loose, Hey You, Long Time Comin' and sadly, my personal favourite Take Me Home being absent – from their classic 1990 debut A Bit Of What You Fancy interspersed with three or four numbers from their more recent offerings. Now that I didn't foresee. However, after some careful consideration, I actually find myself feeling glad it's turned out this way: in fact, by the time I peg it to the bus station for the last 38 to my humble abode at 10 50, there's a bigger smile on my face than I hitherto thought humanly possible. Which, given the misery, fear and paranoiac thinking sweeping the country at the moment, is surely saying something.
And you know why? Because I had GENUINELY forgotten, until tonight, just how excellent these songs really are. Not only are the gospel-drenched Whipping Boy [correctly introduced by Spike as 'something turned down by Tina Turner'] and party-crashing opener There She Goes Again quintessential snapshots of my glam'n'sleaze adolescence, but they're truly great compositions in any genre: whether performed as hard rock, blues or soul numbers, they're still masterclasses in lyrical poise, melody, dynamics and attitude, even when stripped to the bare bones of acoustic guitar, harmonica, bass, piano and tambourine. Moreover, Spike's vocals [which I must confess were a source of niggling concern for me in the early-mid-00s] have now recovered almost all their low-end firepower: evidently [as with many other frontmen] the enforced lay-off between March 2020 and August 2021 has done his larynx the world of good, but I also genuinely think that now, shorn of all the industry bullshit that once dogged his band and FINALLY permitted to pursue music for its own sake, he's more relaxed and content than I've seen him look in ages. And that makes all the difference.
But before proceeding, he has a brief question or two to ask. "What's the most famous band to have come out of Derby?", he tipsily enquires, "and what's the accent here? Is it Midlands, North, East Anglia, what?" The answer to the latter, of course, being a mixture of all three, and the former, dependent on who's yelling, being variously 'Anti Pasti' 'Kevin Coyne' or 'The Struts' Admittedly, considering how often the band have played here [and that half the original lineup hailed from nearby Stone] I'm a little surprised that he doesn't already know any of these things, but then again, as someone who's been openly happy to view most of the last 35 years through wine and whisky glasses, he probably hasn't felt under that much pressure to notice: likewise, long-time partner and guitar supremo Guy Griffin has probably been so engrossed in the mastery of his craft over three and a half decades that he's only paused to look up from his impressive rack of assorted electro-acoustic and steel devices less than ten times in toto [er, he's not in Toto, he's in the Quireboys- Pedantic Ed] but that's to his credit rather than his detriment, and in this intimate setting, his skill shows amply.
Indeed, for such an archetypal 'rawk n raaaawl' [note: NOT heavy metal] band, the entire quartet's instinctive musicianship is striking: there may be far less original members in the group now than ever before, but whereas the "old gang" always seemed more like snappily-dressed dandies who just happened to play in a group on the side, this lot are ACTUAL players. Players who have somehow casually stumbled upon the perfect balance between loose-limbed, insouciant 'trashiness' and an extensive, scholarly knowledge of genres as diverse as folk, bluegrass and Motown: players, to put it another way, who understand what true R'n'R is. And that suits me, I can tell you: sure, I may well have grown up on Hanoi, the Dogs and GnR, but I'd still rather listen to a Van Morrison or John Prine album than a 'hair metaaaaal' record anyday, and doubtless Spike and his mates would too. In fact, I'll go further, and wager that were you to hand Griffin, lead guitarist Paul Guerin or resplendently-hatted keyboardist Keith Weir the sheet music to anything, they could probably wing playing it within ten minutes. Yes, they really are that good.
Yet at the same time, they never once lose sight of the 'soul', feel and raw emotion so essential to this style of music, as the impassioned Devil Of A Man and Mothers Ruin so perfectly demonstrate. And, whilst their full electric shows as a sextet are equally great to behold, I personally find that in this format [tentatively dabbled with in the early days, but only really first fully explored on 2009's astounding Halfpenny Dancer album] I could happily listen to them all night. In truth, I could probably listen to Roses And Rings at least once a week for the rest of my existence: alongside King Of New York [which sadly DOESN'T get an airing tonight, but I'll let them orff] it's an example of their craft at its finest, and as great as anything Rod, Bob, Roger McGuinn or Steve Harley [being as it is somewhat reminiscent of the last-named's classic tearjerker Compared With You] ever laid down in their seminal mid-70s eras.
"Have a drink with the Quireboys!!" a full-receptacle-toting Spike dterminedly yells before launching [unsurprisingly] into Have A Drink With Me: in great rock n roll of this kind, there are generally only two moods [raucous and romantic] and between this track, Sweet Mary Ann, I Don't Love You Anymore [slightly marred by a fluffed key and the odd missing lyric, but no-one really cares] and Sex Party, they more or less sum them up perfectly. And then we're done. Off into the cold Derbyshire night, full of ale, wassail, arousal and carousal, and satisfied as ever that for 90 minutes, the man formerly known to his parents as 'Jonathan Gray' and his band of merry men have provided the perfect [vodka and] tonic to our troubled times. More to the point, they didn't even mention the sodding p**d*m*c once. Which, of course, is exactly how it SHOULD be. God bless the Quireboys- they came, they saw, they rock and rolled, and there, verily, didst they again go. In an increasingly uncertain universe, it really is reassuring to know – even if lineups are often about as reliable as politicians – that some things will never change.