11/10/2019
Stevie Nimmo Trio
Review and Photo by Liz Aiken
---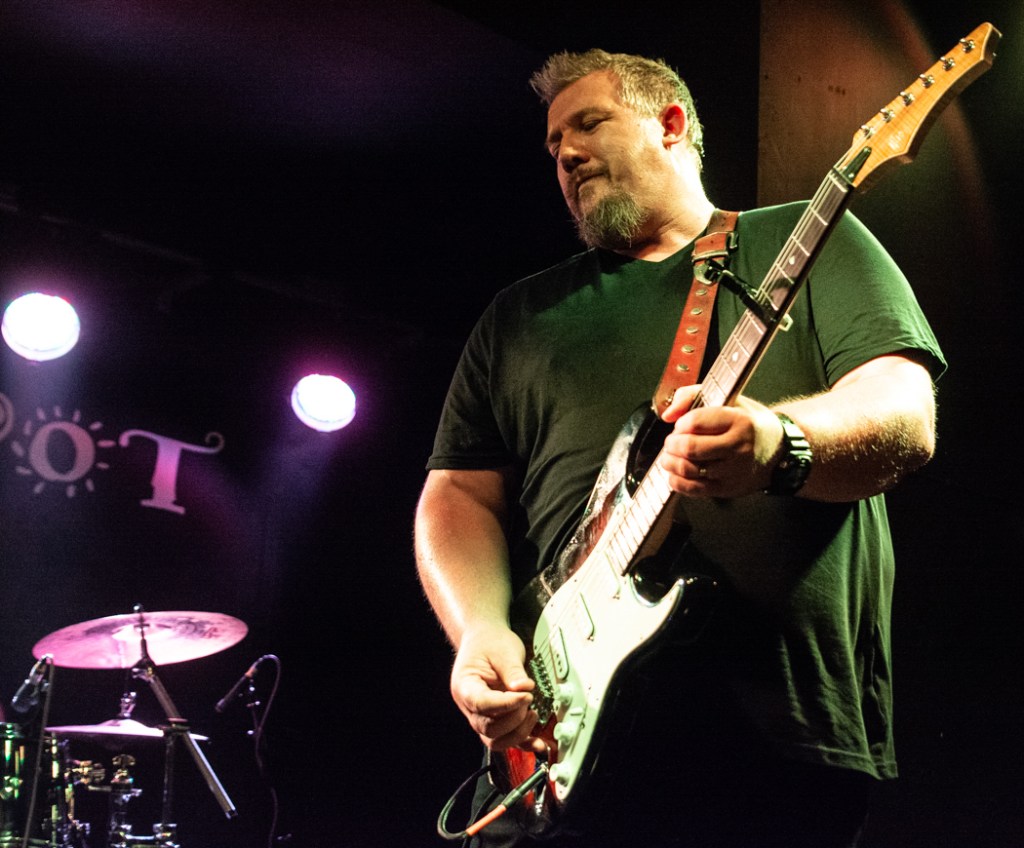 Like buses no live shows for Liz at Bluesdoodles then two in a week. Great to go back at The Flowerpot in Derby we just love this venue Rawpromo always put on some great acts.
Opening tonight to warm the venue that was filling up fast with an acoustic set from Cain Paisley, a Derby-based musician and music teacher. You would never have known if he hadn't told us this was his first solo gig in five years! He certainly warmed up the ears as we waited for Stevie Nimmo Trio with a selection of blues classics. With some Beatles and Johnny Winter thrown in showing dexterity on the acoustic guitar as he shared some excellent grooves and entertained.
A short break provided a time to catch up with friends and fill our glasses with one of the vast selection of ales always on tap at The Flowerpot. Then the cheers reverberated around the packed Flowerpot as Stevie Nimmo with his rhythm section, Craig Bacon and Kelpie McKenzie strode on stage. When Flowerpot favourites play it is a wonder that the roof stays in place as they give back their support and love to the musicians they fill them with joy. We were all delighted that we were welcoming Stevie back, playing the guitar with that broken arm now repaired his performance is full of energy and complete with guitar and vocals in harmony.
We knew that the set was going to be high-powered as he opened with the first track from his acclaimed album Sky Won't Fall, Chains of Hope always a winning number a powerful rock-blues number. What a welcoming number that connects to the audience and feels like an old friend with the combination of vocals that powers through the lyrics and harmonizes with the guitar that rocks the listener when played live from the top of your head to the tip of your toes. It is the strength of his rhythm section that allows Stevie to soar knowing that the beat will not drop and the sky will not fall. This was a set full of highlights as we heard so many tracks from the album Sky Won't Fall. Gamblers Roll is superb on the album but live, Stevie and the band takes it to a whole different level as they stretch and re-shape the lead breaks and the lyrics are delivered with an intensity that makes live music so special, and then we had some wonderful Blues with A Good Day For The Blues. Stevie shares with the audience an insight into the life of a musician and the darker side of the music industry as he says I will not sell my soul so he wrote Still Hungry when he realised he waited to play but not to the industry's tune. What a number, about finding the love for playing the guitar again and staying true to yourself.
What a night as the blues rocked and the tempo changed we know the words and love hearing the songs that are familiar. Stevie apologized for not having a new album "but last eighteen months has not found me in the right place to write". So he had for his fans the set recorded in a studio as a sessions album, available at his shows, The Morsecode Sessions is one for your collection.
Every live show has a number that is just that little bit special. Tonight it was Running On Back To You, full of emotion a tremendous lead break what an amazing number. Tonight we were treated to blues guitar played with love, skill and energy the guitar and Stevie are connected by a golden chain. Walter Trout's On the Rise, that is a Nimmo Brothers favourite played with love as he recognises the mighty Walter.
Closing out with Roll The Dice Again we are left waiting for a new album filled with anticipation, Then the last number Down Down Down given the Stevie Nimmo Trio treatment to leave us on a musical high. Once again Live music raises everyone's spirit on a Friday night in Derby.