8/12/2018
Limehouse Lizzy
Review & Photo by Barry Martin
---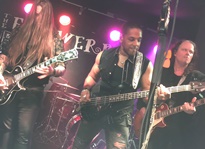 Legendary meta-tribs, Limehouse Lizzy hammered out a Heaven and a L.L. of a gig in a (pre-) Christmas cracKKKKKer of a show as Irish icons the Thins.
Screamin', wailin' double guitar solos, power chords and power poses, the awesome foursome rocked it like there was no tomorrow as they proved once again they are the Best in the Liz. Biz..
Man mountain Wayne Ellis as Philip Parris Lynott (Rock In Perpetuity, buddy) was simply outstanding. He was the A*ce of bass, King Dirnt the First-more front than Blackpool, more moves than the world chess champion and ballsier than a street full of pawnbrokers. On stage, Wayne is Phil, every Phil-ism carefully choreographed and scrupulously copied down to a T.
Percussion powerhouse Aid (Hot Toddy) Todd as Brian Downey was the thunderous heart beat of the band as he belted seven.. actually seventeen bells out of his kit from the first note in Jailbreak to the last e in their encore one hundred and twenty magnificent minutes later.
Double lead guitarists Greg Alcock and Craig Price serial riffem and blues-rocked the room all night resurrecting the glory years of T.L. axe-meisters Brian Robertson, Scott Gorham and Gary Moore. Blisterin', smokin', blurred, frantic, flyin' - fingered fretwork. That, boys, will do very, very nicely. A pleasure to behold. A multi-eargasmic experience.
Which songs did they play? They did 'em all folks! The guys sure got bizzy with the Lizzy!
A couple of corkers for me were a B.O.G.O.F. cover of Don't Believe a Word (first one slow and moody then quickly cranked up to 11 for the normal speed knockout version) and a simply divine Dancin' in the Moonlight, featuring a superb, spot-lit solo by York's finest, the sax-machine who is Mr Christopher Blackhouse, having his 1 minute and 15 seconds of fame. The guys' rousing rendition of Bob Seger's Rosalie was also a belter as well as crowd-requested Warrior, the tricky but nailed superbly Black Rose and the obligatory, scream/singalong T.B.A.B.I.Town.
Thank you,gentlemen. It was that good, I'm already counting the days down 'til it's Lime-Time again.
Celebrating 25 years, yes 25, exactly recreating the Thin Lizzy sound, these ladzz are riff-rockin' royalty. Truly a four*king amazing band!