24/11/2018
Focus
Review and Photo by Barry Martin
---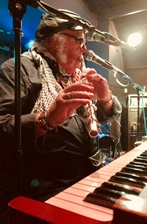 Seventy years young this year and still going strong, the remarkable Thijs Van Leer and the Focus four treated a packed 'Pot to a marvellous evening of 70's nostalgia and meta- musicianship. Sir Thijs, to give him his full title, after his much deserved knighthood for outstanding services to music, was simply phenomenal with his beautiful, enchanting 'charm the birds out of the trees' classical elite-class flautistry, 'king of the keys' keyboard work plus a bit of super scat singing, signature whistling 'n' legendary 'out there' rock yodelling for good measure. UnbeLeervable! Vantastic! Van is truly Van the Man.
Linking up with his b.f.f., percussion powerhouse (superb solos,sir) Pierre Van Der Linden and two newish branches on the Focus family tree, Udo Pannekeet (bass) and Menno Gootjes on lead guitar, Sir T. showcased all the four-piece's favourites and a number of tracks from their latest album, Focus 11.
Five decades now and not counting into their musical legacy, the band rolled back the years with a sensational 'House of the King' starter. All four of them demonstrating their musical maestrissimo qualities. Then we were wowed by the classical/operatic prog rock epic which is Eruption, of a mere 23 minutes duration!! By the end of that offering, we all knew we were in the presence of true alt. rock royalty. The T. man's scat contest mid-song with a very willing audience was just great to experience (and share in !) Jazz amazing,all!
Firing up the distinctive sounds of 'Sylvia' and the crowd were gone again, losing it, lost it!, rockin' and a headbangin' themselves back to their teenage times when these Hollandish heroes ruled the air-waves.
Cuts from their latest cd including Udo's Mare Nostrum (Our Sea) then delighted and entertained the massed ranks before the F. guys brought out the biggest of all the guns in the shape of the sensational showstopper, the 'up there with' 'Bohemian Rhapsody' and '21st Century Schizoid Man', the quirky, experi-mental, genius, manic masterpiece that is Hocus Pocus. Cue very moist, major moshpit mayhem and madness on a monumentalist scale as prog. rock's Pan fluted, keyed, shrill-whistled, yodelled and singalong aaaah aaaaaaaah aaaaaaaaaahed!!! with every last member of the audience. Pierre and Udo excelled themselves as they battled to keep up with the hyper souped-up septuagenarian and Menno, man! can that lead axe-man play! Talk about smokin' fingers! Jan Akkerman, eat your heart out! Your super-shreds and Iightning riffs are in very good hands!
All in all, Foc.king brilliant!
Old Focus. New Focus. Whichever. 11 out of 10.
...and long may it continue for these Dutch masters and their godfather of prog.rock, T.V.L. You guys put on an L. and a Heaven of a show!! Dank je. Dank je. A thousand times Dank je.