11/11/2018
The Nimmo Brothers
Review by Barry Martin
---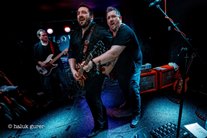 "Five stars. Excellent. Just write that" I was told by a young lady BEFORE (!) the gig had even started, when I let slip I was doing this review. And that very much describes my view except times two and a bit on the top. It was that good!
In the weeks up to this particular gig, this was the vibe I was getting - Britain's best blues band, sold out for months, multi-award winners, the fastest band to sell out in Flowerpot history, Barry you have just GOT to see these boys! Nobody had a bad word for these guys. Never had there been such a buzz about a band in downtown Derby. So as you can imagine, I was well up for this one as the Nimmos four-piece sidled on to stage to the tune of 'The Boys are back in Town' sung by the entire audience.
Blues, rock, soul, a bit of boogie and all original songs. These two Glasgow guys, Stevie and Alan Nimmo and their heartbeat bassist Mat Beable and rock-solid drummer Craig Bacon sure can play and put on a show.
Soulful singing allied to screamin', wailin', slidin'/wah wahin' solos. Flyin' fingered fretwork of the highest order. Finger-pickin' good. Meta-musicianship, delivered with drive, passion, heart and balls.
The ZZ Toppy, Gary Mooreish 'Long way from Everything' was an outstanding introduction to the N.B.s for me who I must admit had not previously been on my rock radar. They are now, BIG TIME! Great song.
Such was the love coming back from the crowd, it made it feel like a huge Nimmo family/extended family event reunion type thingy, a 250 strong reunion party!
'Still Here Strummin' was another absolute belter as the atmosphere inside the room hot-housed into a steamy, sticky, sweat-soaked sauna of an occasion. But who cared with everybody havin' an absolute ball of a time!?
'If I Could See Through Your Eyes' was just beautiful in its execution and was received with tumultuous applause from the wowed watchers.
Their old Blackwater Blues Band numbers were just as popular as these Blues Brothers 2018 made it their mission to relentlessly yet respectfully rattle off their greatest crowd-pleasers. Two brilliant riffthm and blues bouncealong, singalong encores sealed the deal on a superb night of musical mega-masterclassing.
On a very big day for Remembrance, this Fantastic Four put on a musical performance to remember.
11.11 out of 10, boys. Special.
John Mayall, Peter Green, Paul Rodgers, Brian Robertson and Eric Clapton etc would have been proud of you tonight. British blues is in very good hands going forward.
NimmO, M .G. !