29/9/2018
Cloudbusting
Review by Barry Martin
---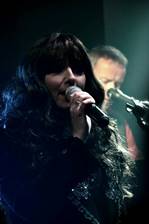 Wonderful, Delightful and of course Unbelieva-no bull.
Mandy Watson and her band of meta-musicians put the "Super" in superlative as they paid glorious tribute to the sounds and songs of the angel of art-pop, Catherine (Kate) Bush CBE.,40 years on and not counting.
Not so much a gig but a magical experience. A two hundred and fifty strong, sold out (again) singalong audience and band bonded as one in the Kate Zone.
With goosebumps like golf balls, I watched the theatrical, spell-binding, hazy, atmospheric happening unfold. From the haunting backbeat driven set starter, Running up that Hill, you could tell it was gonna be a good un, the crowd entranced and whooping their appreciation twixt tunes. Army Dreamers and Wow (Unbelievable! - chorused by every one of the packed 'Pot punters) were for me the Everestian highs of the first set with K2s a-plenty too.
Second helpings, my kind of gig, Saxophone song (thanks Dave Gilmour!), Them Heavy People ,We Rolled the Ball,than an awesome TMWACIHE yes, Don't Give up, Babooooh!- shka, Hounds of Love and the 19 year old Kate's no.1 mega-smash Wuthering Heights to finish. Back up and conquer Everest again!! By then, sopranissima Mandy was (It's me!) Kathy. La Bush was in the house, but a lot younger of course. K.B.'s unique vacillating vocal acrobatics were reproduced brilliantly by the band's outstanding lead singer
Melodrama, surreality overload, mystical, historical, literary inspirational. We had it all and scenes from the ground-breaking videos kept running through my mind. Too much! O.M.G. Gig-gasm!
Cloudbusting are:
Chris Voysey, the Variax virtuoso, on guitars and b.vocals.
Adam the heartbeat Aggiss on percussive arts.
Michael feather fingers Mayell on keys/Fairlight.
Dave 'Joys of Six' Roberts on basses and backing vox
and the superstar, make that hyperstar Mandy, oh Mandy! ( my name is Barry!) Watson as Kate Bush, the most inventive, innovative, iconic A*rtiste A.T.G
Four decades on, Kate the timeless original, Mandy and her mega-man band, we thank you with our heart, soul and being. A special, special evening...