31/8/2018
AC/DC UK
Review by Barry Martin
---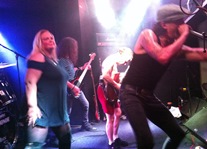 Another new season at the Flowerpot. Another stormin' sell out Rawpromo show and the no.1 tribute to Acca Dacca absolutely aced it! Mega-quality in quantity, two hours, one set, all aboard the relentless rollercoaster of rock!
Only surviving founding member of the band, Derby's own Daz Ward on drums, Alfreton's Danny Curran on bass and rhythm guitarist Tristan Gaskell as Malcolm,(Rock In Perpetuity,buddy), superbly created the canvas for the Fab Five's two meta-men.
Newbie lead singer Gav Bolt did a brilliant Brian - all twitch n flat cap n all the classic Brianisms so beloved of music fans on Planet Heavy Rock. This Exeter lad had all the Newcastle banter n accent between songs and all the gargled with gravel, gruff tones of the former Geordie frontman.
Oh and then there was a certain, crushed-velvet suited, short trousered imp by the name of Graham Harker doing his Angus (McKinnon) Young. More duckwalk than a dozen Donalds, more sweat than several Swedish saunas, more energy than a RockStar drinks factory, GrahAngus puts his heart, soul and cojones into his characterisation. Graham is the first Wonder of the rock World and is right up there with John Campbell as Jimi in the trib All Time Greats, imho.. Awesome jaw on the floorsome technique and talent, whether vertical or horizontal. Graham never old, forever Young.
Thunder, Shoot to Kill, a singalong the Jack, B in B, TNT, classic tracks all and then the five-headed monster of riff-rock rolled out Whole Lotta Rosie. But this time with a twist. Instead of an inflatable balloon-breasted big girl from Tazzy, up stepped on to the stage, gallantly assisted by young Gav, a real live Rosie, not from down under but downtown Allestree who proceeded to temporarily steal the show with her impressive hairography, much better than that Will Smith sibling n her WLR mega-moves. Turns out Annabelle was doin it in tribute to her big sister Lucie, a huge DC fan who had ever so tragically passed away recently, way too young. A mega-touching moment phoenixed out of a most sad event. Our thoughts and prayers go out to the family.
Now the awesome fivesome were cooking with more nuclear fuel than Trump, Putin n Un put together as they finished with Let There Be Rock, H2H/Heaven!! And For Those about to Rock... as the crowd lost it in an eargasmic, moistissimo, frenzy.
Mighty Mensters of Rock, messrs Gaskell, Ward, Harker ,Bolt and Curran, to you we raise our hands and give you one almighty Salute. You did young Lucie proud. She was smilin' down on you and her little sis tonight.
Five out of Five. Actually make that 6 outta 6 and 11 out of 10 on the Riffter scale. Fakeing out of this world.