17/3/2018
U2UK
Review by Kevin White
---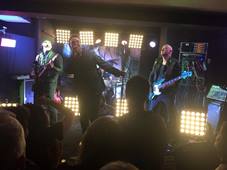 A sold out homecoming show at The Flowerpot (the band members all live in or near Derby) and a fitting choice given that it is St Patrick's Day. The crowd were in great spirits.
Adey Aslam (Adam Clayton), Nathan Griffiths (Larry Mullen Jnr), Simon Pellicchia (The Edge) and Paul Collyer (Bono) do a phenomenal job of recreating the sound, drama and swagger of U2 shows. The musicianship is faultless and Collyer is great at working the audience.
The band worked really hard tonight and played for just over two hours with songs spanning U2's 40-year career and one or two surprises.
Red Flag Day and The Little Things That You Give Away from the current album Songs of Experience slotted in to the set nicely and were classic U2. Lemon from the divisive album Zooropa was played during the encore, possibly a little late in the show as Collyer had to hit some high notes, it would perhaps have been better earlier in the show. An acoustic version Staring At The Sun saw Collyer and Pellicchia leave the stage and walk through the crowd playing the song. My track of the night was the superior Gone this had the hairs on the back of my neck stand up. Their parent album Pop is not my favourite U2 album but the aforementioned songs should be played more often live. These were the unexpected surprises in tonight's gig and went down really well.
It was also great to hear Party Girl and the fantastic Gloria both of which rarely get played live. Other favourites of mine were show opener City Of Blinding Lights, Vertigo, Bad, Running To Stand Still, Pride (In The Name Of Love) with the audience singing along at the tops of their voices and With Or Without You, a great song to finish the gig.
U2UK delivered a solid performance and the fans loved every minute of it. The guys have proven once again why they are Europe's leading U2 tribute band.