16/2/2018
DIIO and Saxonized
Review by Barry Martin
---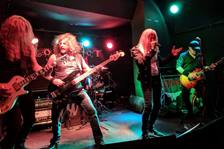 DIIO.M.G.! Melodious, mystical, mythical rock made in Heaven and Hell... and the Horns too! After Saxonized had softened up the crowd, Wheels of Steel and all, the DIIO boys, in just their fourteenth gig, absolutely killed it.
And this was all with lead singer Matt Duggan (he of Hi on Maiden, for this gig, High on Medication!), seriously suffering with a horrible chest infection. But like the erm, 'Trooper ' that he is, he put in a superhuman set uunder the circumstances.
Pete Mather(Sack Sabbath) as 'Skinny' Vinny Appice on drums, blur-thrashed and flailed as if his life depended upon it, hirsute whirling dervish stylee, all the time keeping a tight control on the band's direction.
Tony (H.B.F.Priest,Synner) Clark as Jimmy (bouffant barnet) Bain hammered out all the classic, iconic bass lines that Ronnie James bands are famous for with power, poise and precision. But local legend, Russ Sacko Saxton (S.S.,Synner) as Vivian Campbell was perhaps the stand-out star of the evening with his smokin' fingered riffery, not droppin' a note all night long.
DIIO are one band, but you get two for free. They do the best of DIO, plus the mega tracks of R.J.D.'s Rainbow and Sabbath stuff too. Result! and with the Saxonized boys on board as well-bargain night of entertainment!
Cleverly mixing up the absolute best of Ronald James Padavano's offerings, a riff-ripping Rainbow 'Kill the King' and Dio's Don't talk to Strangers got the Flowerpot faithful into a happy, headbanging mode. Then it was heavy metal killer track, Sab.'s Heaven and Hell, a clapalong, sing/screamalong crowd participation classic nailed.
Suffering singer Matt simply refused to Die-O on stage, despite often hovering in lyrical purgatory,and adopted a 'The Show must go on' attitude as the gig went into its second half with DIO diamond in the crown 'Holy Diver' in all its brooding magnificence, through Neon Nights, a stompin 'Long Live Rock n Roll' and finale 'We Rock'.
Stargazer was the planned encore but that epic, extended rock behemoth, it was decided, would have proved a larynx too far for young Matthew and the band wisely called it a day/night and absolutely nobody in the audience was complaining.
Double-header gigs (quadruple actually!) like this, are they the new future for tribute events and keepin' live music venues open? Hope so. Full on. Full value for the punters. I'd have liked to see a giant inflatable Murray, Ronnie's demonic mascot and mythic mentor make an apppearance, maybe during 'Holy Diver', but overall a knockout nine outta ten.
Look forward to seeing you all again boyz, for Stargazer in all its glory, everybody holdin' up those horns and a restored, one hundred per cent Matt on the mike.