27/1/2018
The Quireboys Unplugged
Review by Kevin White
---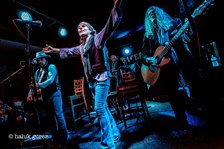 The Quireboys last played The Flowerpot nearly ten years ago and made a triumphant return to this idyllic intimate venue. The atmosphere in the venue was electric with the buzz of anticipation of the group hitting the stage.
Spike is a seasoned front man and worked the crowd like the pro that he is and right from the start had the audience on his side who responded with great enthusiasm to his requests for them to sing-a-long and raise their drinks in the air.
The band under various line-ups but with Spike always at the helm have been going for nearly 35 years and like many bands there era who broke onto the scene in the late 80s feel victim to grunge but unlike many of their counterparts they had the dogged determination to carry on albeit with a couple of brief spells in hiatus.
The current unplugged tour sees the band stripped down and acoustic, very often a brave move, but those who pull it off show just how good their songs are when played in this format. And my God, The Quireboys pulled it off with such style, showcasing not only how good a vocalist Spike is but also the band themselves as very versatile and capable musicians. The mixture of material played tonight encompassed Rock, Blues and even Country thus proving beyond doubt how good these guys are. The band features Spike on vocals, Guy Griffin guitars, Keith Weir keyboards, Paul Guerin guitars, Dave McCluskey drums and Nick Mailing bass.
This current tour is also promoting the brilliant new album of Blues covers called White Trash Blues done very much with The Quireboys treatment.
Spike is a very funny man with his quips and the disarming Geordie banter went down very well, even at the expense of his beloved Newcastle United.
The set highlights were numerous There She Goes Again, Devil Of A Man, Mona Lisa Smiled, Hello, Beautiful Curse, Whippin' Boy, Have A Drink With Me and Walkin' The Dog (these last two from the new Blues standards album). Hey You and 7 O'clock, quite possibly the best-known songs in the band's catalogue closed the main set. After much clapping and the fans chanting for more, the band duly obliged and returned to the stage to close the show with I Don't Love You Anymore and sublime Country tinged Sweet Mary Ann.
I have fond memories of The Quireboys breaking onto the scene 30 years ago and being a bit of fresh air and was delighted to discover that I knew a lot more of their songs than I thought I did.