27/12/2017
The Rattlers
Review by Claire Spencer
---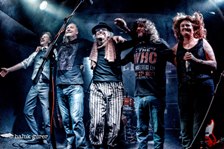 It's quite remarkable to think that The Rattlers only seem to come together to play once a year, yet still manage to play a cracking gig, and it was in fact confirmed to me by the band that there have been no Rattlers gigs since the last time I saw them at the Pot on this date a year ago. In previous years though, they have managed appearances at the Derby Beer Festival, where to all intents and purposes they went down a storm. So, it seemed like a plan to blow away the excesses of Christmas and head down the Duffield Road to my favourite watering hole to see them. Furthermore, this was more than your average gig, as The Rattlers' new album was to be recorded live that very evening!
I was greeted by the usual friendly familiar faces at the door of the music room, where yet more friendly faces known to myself were already gathered at the front of the stage to pay homage to those who in truth were actually their friends as well.
The band are described as "roots rock" in the excellent and very informative glossy gig guide that Raw Promotions put out, and I might venture to suggest that they might also be seen as reminiscent of early Levellers in some of their stuff. No matter how you care to label them, their music still great!
The band is made up of John Adams on vocals, electric guitar and mandolin, Paul Grainger is on the bass, Sarah Matthews plays electric violin and vocals, representing Raw Promotions is Alan Woolley on vocals, acoustic guitar, and mouth harp, and finally another ever popular organiser of ace music events, Boz, on the drums.
Things got underway pretty quickly at about 8.30pm with the support act which The Rattlers had obviously chosen with care; this was Eddy Morton, the founder member of the deliciously named New Bushbury Mountain Daredevils.
Tonight Eddy was playing solo, and had travelled up that evening from Stourbridge, where Robert Plant went to school, and is in fact quite an established musician, having supported greats such as The Saw Doctors, Ralph McTell, Manfred Mann and Lindisfarne. Proficient on acoustic guitar and harmonica, Eddy played a variety of his thought provoking music including a song about The Miner's strike and some were about his home town, and some taken from the CD he had on sale at the front of the stage. Eddy has a lot of his stuff up on You Tube; check out "Union Jack," the lyrics will astound you.
And so, with the live recording ready to roll and plugged into Sid's desk, the band bounded out onto the stage, to a near full music room, with bassist Paul Grainger sporting a Who tee shirt, Boz was in his familiar trademark brimmed hat, and finally, with Alan Woolley's tee shirt paying tribute to Jimi Hendrix, without further ado they launched into "Born To Grow Old," a song I was actually au fait with. The music continued with the somewhat folky rhythms of "The Two Bettys," with the violin of Sarah coming to the fore. Indeed, while waiting for the band to come on I had noticed that her violin had 5 strings on it, which, as an violin player myself many years ago, confused me slightly. Speaking with her later, it turned out that the fifth lower scale string enables the instrument to be played as a viola as well.
What is quite remarkable is that the Rattler's faithful also seem to know all their songs off by heart. This certainly proved to be the case tonight, with those at the front in full voice along with the band, and in the unlikely event of the members forgetting the lyrics, there would have been no shortage of prompters!
The music continued with another favourite from the Weightless CD, "Took A Long Time." This album was dipped into several times in the evening with "Children at War, "Come a Time," "Tear Stained Letter" as well as the title track, among others.
John Adams' guitar playing was faultless throughout, ably supported by Alan Woolley's acoustic guitar and vocals, Sarah's violin playing knitted it all together with her rootsy rythyms, whilst Paul's bass and Boz's solid drumming gave a firm support overall in the basement. Also played was the evergreen favourite "Ten Years from Now" and "Five Knuckle Shuffle".
Towards the end of the evening the band were joined by Alfie on the sax, for the last two numbers, "Liar" and "Tear Stained Letter." Alfie is a great friend of the band, and she certainly added another dimension to those songs she played on. It would have been nice to have had her play on a few more songs, but then she was guesting on this occasion, and is not a member of the band.
The evening seemingly ended at this point, with Alfie packing her trusty sax away, but as any gig goer knows, this wasn't really the end, and the band returned to play two more songs for the road, the first of which was "Frog 'n Swan" and finally the aptly picked "Two for The Road" before finally joining together at the front of the stage to take a bow to what had been a memorable evening. Hopefully, we will see more of The Rattlers before they play their traditional post Christmas gig at The Flowerpot in December 2018, though Alan Woolley told me that have no gig plans at the moment, but they will however be concentrating on mixing and issuing the new live CD. So, you might be advised to keep your eyes and ears open for that especially if you were there, as you might even be on it!