26/12/2017
Are You Experienced?
Review and Photo by Barry Martin
---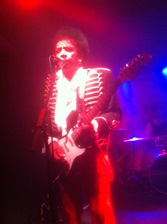 Two and a half hours of Hendrix heaven and 'hell yeah!'. Absolutely awesomeissimo. 11/10. A.Y.E.? defibrillated a Christmas-crackered Derby crowd back to glorious life with an amazing, pyro-techtastic tribute to late 60s, early 70s psychedelic love rock.
Wild thing drummer Kevin O'Grady as Mitch Mitchell and Noel Redding avatar Mark Arnold dirnting for England provided the perfect wall of sound backdrop for Carnaby St. cavalier guitarist and supershowman John Campbell to produce a phenomenal performance truly worthy of the 'main man' Jimi himself.
John dressed like, sang like, played like, staccato-chewed like the Man. Look away and listen. It was Jimi. Peer through the smoke and folk, a resurrected Jimi was there, the most innovative, iconic, inventive, idiosyncratic axe-man the world will ever see.
The flamboyant gestures, the playful banter, the poses, alchemically attached to his Strat, the behind the back, the fingerprint-melting flying Fender fretwork, Birmingham's best had J.M.H. off to a tee.
23 years he has been doing this, John told the crowd and eleven years since I last reviewed the boys and Brum's no. 1 son et al. have still got it in bucketloads. The Jimi gene is still live and very much kickin' in the Experienced?'s stronghold.
A strobe-spattered Gatling, rattling Machine Gun, dedicated tongue in cheek to Trump/Un, a crowd losing it, lost it, Johnny (Campbell) Be (very,very) Good, actually off the Riffter scale, A.A.T.W. and the KKKKKKlassic Voodoo Chile ( slight return) with all the whistles and bells were probably just my highlights but it was all about the purple one in the Quality Street tin for me all evening.
Request time! and the ultimate power trio belted out a knockout Come on, Let the Good Times roll for me. Heaven sent, gents.
Finishing the set with a blazing lighter fluid flourish finale a la Monterey over his burning orgasmatron, John/Jimi, Kevin and Mark exited the stage, leaving the whoopin'n a'hollerin' packed 'Pot punters in an exhausted, very-moist, afterglow of nostalgia.
A.Y.E.? Fret*King awesome. Superbly, stunningly flying the 'freak flag high'(2006), higher(2017).