6/10/2017
Mused
Review and Photo by Barry Martin
---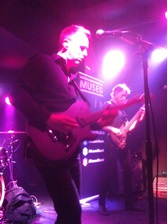 How do you recreate the musical meta-artistry, action and atmosphere generated by the world's current greatest live band? Go and see Mused, that's how!
In a sensational Derby debut, the Birmingham-based titans of tribute put on a jaw-on-the-floor awesome, we want some more-some, knockout, ultimate rockout night of Muse-ic dedicated to two golden decades of mega-output from the trio from Teignmouth.
Carl as Matt (Matthew James) Bellamy, more bounce than Busted (all of 'em put together), more attack than Kim Jong-un, more energy than a battalion of Duracell bunnies, Carl put on an Absolutionally stormin' show as M.'s front man, falsetto (castrati?) singer, and flying fingered riff-meister. Carl was Matt; the look, the moves and the oh so marvellous music-maker.
Chris as ace percussionist Don Howard was rock-solidissimo alternatively caressing and battering his kit into willing submission the whole night long.
Quietly menacing, dark horse cool guy and a young John Paul Jones lookalikey Stu on bass 'n' vocals as Christopher Anthony Wollstenhome melded the whole three together with his stand-out, iconic runs and dirnts of thunder and lightning
Starlight, Supermassive Black Hole and Hysteria were the epic, bombastic-fantastic, riff-tastic tunes which highlighted the first part of the night's offerings as the boys opened up the amazing A-Muse-ment Arcade and immediately hit the musical jackpot.
The second half of this sensational soiree was a relentless Muse hit-fest of blurring, relentless, brilliance: New Born, Bliss, a mega-phone mouthed Feeling Good, a m-m-m-m-mad Madness, Time is running out, Mercy and two Symmetrical super-tracks, the smokin-fingered, hook hauntin' Plug in Baby and an insane, Spaghetti Westernesque, Telstar-tastic nod to Matt's dad, Knights of Cydonia during which the heaving, moist masses simply 'lost it' in musical ecstasy as fever pitch audiogasm was reached and exceeded room-wide.
Ear-drum delectating encores Uprising and Stockholm Syndrome took the evening to another high, if that were possible, before the triumphant three-piecers took their arms-raised tumultuous applause for one final time.
Monumental, experi-mental at times, ultra-creative anthemic music with inspirations as diverse as Rachmaninov and Rage against the Machine, Prog. and Prokofiev, Bellamy's boys are a very hard act to nail. But Mused did it. Nailed it .Smashed it . Bossed it BIGtime !
Carl, Chris n Stu... We salute you.