29/9/2017
U2UK
Review and Photo by Barry Martin
---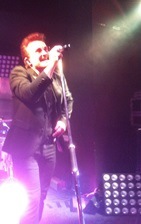 Home-town heroes U2UK took the 'Pot by storm or was that hurricane? as they w-w-wowed the assembled masses as the world's biggest band.
Paul Collyer as frontman Bono Vox wasn't just your any old run o' the mill Bono, he was BonO.MY,GOD!!, Bonoissimo !!! as he put on one of the Flowerpot's most fantastic individual performances seen for many a year. Paul was open-mouthed awesome! From note one to encore number 5, yes 5, our Paul had the crowd entranced. He nailed all the B. man's moves and mannerisms as he masterminded a mega-night of musical interaction and passion for his adoring fans
Oakwood's no.1 son, Ady Aslam on bass as Adam Clayton, Ilkeston's Nathan Griffiths as rock- steady sticks-man Larry (Laurence) Mullen and A star axemeister Simon Pellecchia (David 'The Edge' Evans) all busted a gut to match 'the Special Bon(o)' and it was all marvellous to hear and behold.
Blasting off with 'Sunday Bloody Sunday', the UKers took us on an ultra-joyful journey of the 2's four decades of diversity. Pride (for Martin Luther King), I Will Follow, a crackin' Desire, S.H.F.W.I.L.F., a sensational Streets Have No Name , an all systems go! version of Vertigo - cue major moshpit mayhem and an emotional, almost hymnal Walk On were probably the highlights on a night which actually had no lows.
More! MORE!! MORE !!!!!! demanded very politely but very insistently by the Flowerpot faithful and the boys obliged with an unscheduled fifth extra tune, the haunting 'With or Without You' which rounded off the meta-exceptional evening perfectly.
Amazing anthems.
Iconic, Irish classics.
U2UK, U4 ROCK!!