1/9/2017
AC/DC UK
Review and Photo by Barry Martin
---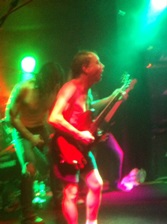 Highway to Hell? More like highway to rock Heaven as the UK boys shook the heavens and earth (all night long) in their 100% authentic tribute to the braincell-battering behemonsters of rock, the Sc.Australian superstars who are AC/DC.
Great Britain's best if not the world's best Acca Dacca avatar are without doubt the canine's cojones (scuse my Spanish), but I would go further, in fact for me, actually they are the Blue Whale's bits - impressive beyond measure! Big on riffs, big on power chords, big on sex, sound n Sheilas, oh boy, driving, jack-hammering cock rock to electronic eargasm. Let there be rock and there was ....Oh My GOD,R-R-R-OCK !!!!!!
Tris (Malcolm) Gaskill, he of the outrageous barnet, backbeat Danny (Cliff) Curran and Daz/Animal (Rudd-y Hell's Bells!) Ward formed the granite-rock base for the meta-trib.-band's diabolic duo.
Lead singer and choir-master of ceremonies, born to be Bon, Jon Bon had all the moves, the looks, the spray on jeans, the double-denimed wild man of legendary and tragic excess who was Bon (Ronald )Scott(1946-80). And donning a flat cap, the resurrected Bon wasn't half a bad Brian either. BOGOF! Bon one get one (Brian) free!
Impish sidekick and bad (school) boy as Angus, step up to the plate, Bishop Auckland's no. 1 son, the Union Jack panted(oh yes!), the mini-me of rock mayhem, more nod than the Admiral dog, more sweat than several Scandinavian saunas and a new high on the Riffter scale of 12, small but perfectly formed, smokin fingered, flyin fret virtuoso, Mr Graham Harker.
Jon and Graham put on an awesome,jaw on the floorsome double-header of a demonstration of how to rock a crowd (another 250 capacity, sold out Rawpromo triumph!!). Jon was a born again Bon... and Brian and GrahAngus was FretKing A*wesome!
Non-stop, one set, all out, relentless rocking was the order of the night and the five-headed monster delivered. Hit after hit after iconic classic came at us,rockin', wreckin' ball rock pummeling our senses for a mind-blowin two hours plus.
H2H, WLR (surely the best rock song ever), LTBR and a For Those.... finale were maybe just the Himalayan highlights but the whole evening was an epic, eardrum exploding audiogasm.
From all who were there, lads,from the bottom of of our hearts, We truly Salute You, as the carriers of the originals' flag, what with only Angus active these days. You do 'em proud! AC/DC UK. KKKKKK
...and cyaz again in March! Wild horses, or even Blue Whales(!) wouldn't stop me!!