24/6/2017
Ohasis
Review and Photo by Barry Martin
---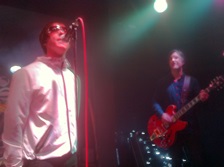 This is a first for me. The first time I've ever done two reviews for any one band. Always used to be, to give it my literary all, one review and out of there. Done, never to return. But when the Ohs. did 'Don't look back in Anger' and 'Live Forever' - for Manchester !", Barry's biro just had to come out to record this special, special event which had taken on a whole new significance. It wasn't just about the music now and a top night out, it was about our Great Britain, battered but brilliantly resilient under fire and Britpop version 2.0, rebranded, dusted off and once again 'Loud and Proud.'
Jon/Liam as per amazing usual was 'Aving it BIGtime ! - more front than Blackpool pleasure beach, more balls than a row of pawnbrokers, more in your face than an Antifa protest march. Little Ariana did great to get just Liam on stage for her big charity do; Glasto got the 2 brothers, but miles apart, only Rawpromo got them both on the same stage, no problemo. 'Pot Top Trumps!
Oasis hit after hit after classic Mancunian masterpiece rolled off the Oh. quality controlled production line. Seemingly the entire G. bros.' back catalogue except Round R Way n Acquiesce (which they promise to do in October at the Rescue Rooms.) So wall to Wonderwall excellence throughout, then 'Don't look back in Anger', a stripped down,acoustic + tambourine only Flowerpot exclusive version (called by Noel /Scott in the Green Room five minutes before showtime) - genius ! , and a sold out 250 crowd singing their little larynxes out. Brilliant ! Tingles. Goosebumps. Lumps in throat time. It is rapidly becoming battered Britain's unofficial and the People's National Anthem.(Sorry,Queenie!) Then Liam/Jon sidles back on to belt out 'Live Forever'- "for Manchester!"
The band were now into top gear, max revs -avin' it with a capital A and the crowd were lovin' it- cue some serious, out of it dad dancing and bounce-bonding with random strangers, all of us swept up in the oh so marvellous moment.
After a cracking Champagne Supernova sing/screamalong, the Fantastic Five encored with an out of left field, strobe-tastic My Generation by the Who which ignited some Moss Side style moshpit mayhem, not just down the front but all over the room!
Live music will never F-F-Fade away with meta-tribs like Ohasis ruling the stage. An absolute bloomin pleasure boys.
Nailed it.Smashed it .Owned it .