16/6/2017
Marcus Bonfanti
Review by Kevin White
---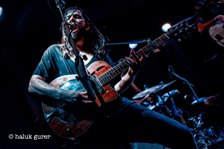 Tonight saw the return of Marcus Bonfanti to The Flowerpot after a two year absence and the crowd reaction as soon as he and his band walked on stage showed just how much he has been missed.
The band comprised Marcus Bonfanti on guitar and lead vocals, Matthew Waer on bass guitar and Craig Connet on drums. All of who are gifted musicians who locked in and worked really well together.
Bonfanti is a rarity; he is the complete package, a gifted singer who has a deep, rich voice with a powerful delivery, a talented songwriter, a great guitar player and a very funny man who really knows how to engage with the audience. Right from the off Bonfanti was giving his all to the performance, constantly moving on stage and it didn't take long in him breaking a sweat!
The ninety-minute set featured songs from almost every album and EP that Bonfanti has recorded over the last nine years. Highlights included Will Not Play Your Game, Little Honey, Alley Cat, Blind Alley, Now I'm Gone, fan favourite Cheap Whisky and set closer My Baby Don't Dance.
Bonfanti returned to the stage and played a powerful solo version of his song Layla before the rest of his band joined him on the song Long Haired Country Boy which closed the gig.
This was a stunning gig from a musician who never fails to deliver when he plays live. He really is one of those must see artists.