11/5/2017
Davy Knowles
Review by Kevin White
---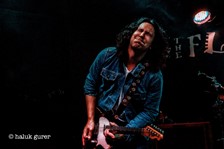 Well this most certainly was a coup for Raw Promotions and The Flowerpot to get UK born/Chicago based Davy Knowles and his band to play here. Tonight's gig was one of four UK shows and the only one in the Midlands. Knowles last played the UK eight years ago. The long wait was most certainly worth it!
The band comprised Davy Knowles (guitar/vocals), Andrew Toombs (keyboards), Marvin Little (bass guitar) and Michael Caskey (drums) who were incredibly talented and versatile musicians covering Blues, Rock, Soul, Roots and elements of Jazz. They locked in tightly together and frequently playing call and response with Knowles' guitar phrasing, either Toombs on keyboards or Little on bass would respond accordingly. Knowles' voice was very deep and rich, a mix of Paul Rodgers and Danny Bowes (Thunder) suiting his music perfectly. Singing with the raw emotion and the life weariness of an old timer, remarkable for a guitar player who turns thirty this year.
The two hour fifteen minute set was jaw droppingly good and the highlights were numerous including Ain't Much Of Nothing, Coming Up For Air (complete with crowd singing along), Falling Apart, Never Gonna Be The Same, Tear Down The Walls. Knowles played stunning a solo spot accompanied by his treasured 1932 National guitar on First Words Of A Changing Man, Saving Myself and As The Crow Flies (popularised by the late great Rory Gallagher). With the full band back on stage a blisteringly good version of Come Home bleeding nicely into Spoonful was played towards the end of the night.
The band were clearly enjoying themselves and Knowles was clearly moved by the response they were getting.
Although it is a great hearing some songs stretched out during a gig, some people may find it hard going when most of the songs are extended. That said, it was an incredible night and here's hoping Knowles doesn't leave it another eight years before returning to these shores.