29/4/2017
Coldplace
Review and Photo by Barry Martin
---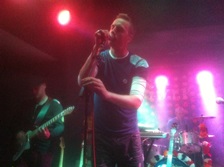 Coldplace?! No way! This was the hottest ticket in town and even more of a knockout than Anthony Joshua's Klitsch K.O. !
The C.p.ers took us on a dreamy,emotional, Limestone-rocking journey led by the outstandingissimo Shane Crofts as Christopher Anthony John (Chris) Martin.
Shane was stunning, superb...bouncing,jigging,pirouette-pogoing as Grimsby's no .1 sons showcased the double-cream of the Coldplay catalogue, every bloomin' one of 'em ! And it was special with a capital S.
Even a techno-glitch in meta-anthem Paradise when the music momentarily Para-died, did not stop the flow. A quick reboot and we were back from technihell, through purgatory back to Para-Para- Paradise !! Viva la Live Music(a) !
Wave after wave like a musical, tidal tune-fest washed over us -AHFOD, Yellow,Scientist,GOD put,Clocks et all the marvellous cetera.
'Fix You' was for me probably the highlight of the night as Shane/Chris conducted the Coldplace choir, all 250 of them in the sold-out (again ) crowd in I swear was the loudest, all -inclusive singalong in Rawpromo history, and that's saying something .. and all the while the charismatic frontman was belting the beejazuz out of his signature,stripped-down, piano.
More classic songs - Politik, In My Place, VLV n Adventure of a Lifetime followed in what was rapidly, sublimely space-rocketing way past earthly realms into an extra-terrestrial evening experience.
Encoring with Something just like This and the floaty, atmospheric Sky full of Stars, the Band linked arms and took their 'talk about well earned !' bows
Coldplace are-
Wayne (hands of Thunder)Birch,percussion as Will Champion.
Dean ( Jonny just as Goode) Stewart -lead guitar as Jon Buckland.
Asa( Berry good indeed) Crofts on bass(Guy Berryman) and brother Shane so magnificently mirroring Coldplay's Mr. M..
Unfourgettable.
*Special mention too goes to resident sound-meister Sid whose light and laser show was a sense-sational ,spectacular sight to behold.