8/4/2017
The Doors Alive
Review and Photo by Barry Martin
---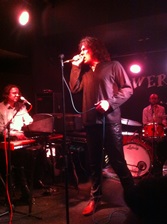 Forget the Flowerpot just for once, for one night only this was L.A.'s iconic Whisky a Go Go club with Jim Morrison's Doors as the house-band as four superb musicians paid jaw- dropping tribute to the meta-band which epitomised 60's counter-culture.
Mike Griffioen as J.M.,the Lizard King, Mr Mojo Risin', was moodily magnificent,mesmerising... more swagger than Jagger,more smoulder than mount Etna,oozing,dripping more sex appeal than Clooney 'n' Casanova combined, M.G.smashed it.
Mike was James Douglas (Jim) Morrison, the enigmatic wild man of rock; the poetical,theatrical,musical meteor who burnt out too soon like so many of the greats (of the time ) at just 27.
Mike's right-hand man, Norbert Varga , with his triple keyboard attack, did a brilliant Ray Manzarek. Norbert, immaculately turned out ,right down to his classic,razor-sharp winkle-pickers, incessantly and exquisitely caressed and assaulted the keys as he weaved his way wonderfully through all The Doors' world-famous licks and hooks
Axe-meister guitar-hero Baz Meyer,to Mike's left, riffed,twiddled,whiddled and strummed superbly all night as Bobby Krieger with Buzz Allan (John Densmore) ,on percussion,providing the rock-steady mortar in the band's sinuous wall of sound.
Which songs did they do ? They did 'em all ! Riders on the Storm, Light my Fire (extended version) and a crowd singalong (Jim conducting) People are Strange were my particular Everestian highlights in a terrific, one hundred and twenty minute musical masterclass.
After encoring with an elongated 'The End', the fab four-piece linked arms and took their bows to the tumultuous applause of a packed 'Pot, in another sold out Rawpromo production.
The Music will never be Over as long as these guys are gigging.
11 out of 10.
They Broke us Through to the Other Side, and for two glorious hours, J.M. and The Doors were Alive again.
A special night. Here's to the next time. Please make it soon.