25/3/2017
Stevie Nimmo Trio
Review by Kevin White
---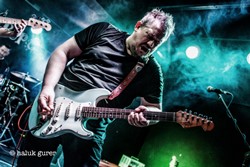 Nimmo has been on my radar for a few years now and many people have told me all about him but tonight was the first time I got to see him for myself. All I can say is 'Wow'. The gig was something else!
Nimmo's roots are in the Blues but his guitar playing shows influence from Hendrix, Gilmour and The Allman Brothers. Stevie is very much Blues/Rock with the emphasis on Rock with lengthy technically brilliant yet oozing emotion guitar solos and he can sing! His rhythm section of Matt Beable on Bass guitar and Craig Bacon on Drums were incredible. The talent and chemistry among these band members showed that a three-piece band can be far more effective than any given band with more musicians.
The set was packed full of highlights Roll The Dice Again, Still Hungry, Running On Back To You, (the Floydian) Change, Gambler's Roll (Allman Brothers Band), Good Day For The Blues, Jessica (Allman Brothers Band) and ending with the awesome Goin' Down.
Nimmo has a great sense of humour sharing jokes with the crowd and was also incredibly humble thanking the audience for buying his albums and turning out to see him and his band time and time again.
The ninety-minute gig was over in a flash and left the fans in no doubt that they had just witnessed something really special.