28/1/2017
Roxy Magic
Review and Photo by Barry Martin
---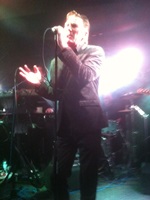 Seductive,sophisticated pop-rock was the order of the day with R.M.'s Kevin Hackett putting in a spell-binding performance as Bryan Ferry.
Kevin,the consummate crooner,lady-swooner, was B.F. (C.B.E.),the immaculate,impeccable icon of cool whose charisma,style and string of great songs have stood the test of time since the early seventies.
Mr H. was backed and equalled at times by a fantastic, meta-professional five-piece mega-band. Vocally and visually,Kevin is Bryan - he has all the delivery and Bryanisms, the sexy microphone caress, as he takes it in turn to beguile and blow away the packed crowd with his super showmanship.
The Magic eased into the gig with a sprinkling of classic chart-toppers including 'More than this', 'Slave to Love', a floor-board bouncing 'All I want is you' and 'Street Life' as K. the band's hyper-magician,smoother than a baby's posterior,cooler than countless ice statues and more presence than Santa, weaved his hypnotic spell.
But this steamy first set had just been a warmer-upper for the stupendous second one in which the Magic just pulled out of the hat hit after hit after hit ad bloomin' amazing infinitum. 'Dance away' and the crowd was in energised ecstasy; we were invited to 'Do the Strand(ski) !' ,and we did !, Virginia Plain turned into a stonking shout-singalong for the Flowerpot faithful as K./B. conducted his choir.
'Love is the drug ' was super spot-on and 'Let's get together' conjured up the the night's top moment of magicissimo as many of the ladies in the audience spontaneously supplied the Jerry Hall et al's haunting,harpiesque squealies right on cue as the band and babes bonded in electronic eargasm.
More,More!.....MORE!!!!! ,begged,beseeched and screamed the crowd and the Magicians returned with 'Price of Love ' and a nerve-tingling 'Jealous Guy' finale which turned into a mass,last dance, hands-on smoochathon under cover of darkness.
Roxy Magic are-
Richard ( Eno's you know) Northwood on keys n synths, Simon (The Beat) Atkins on drums, Mark( not so in the shadows) Schlotel on bass, Robbie ( joys of Sax. etc) Tabrett-Andy Mackay would have been proud of you,matey.
Newbie and defo. a keeper, Chris (11 out of 10 on the Riffter scale )Garfield on lead guitars and The Man, Kevin Hackett, as the lounge-lizardene legend, the mesmeric, undisputed, captivating , chic King Of Cool, He who should be Sir Bryan Ferry.
More magical than a year's free pass to Disneyworld.
Five stars..... make that six.