1/12/2016
Big Country
Review and photo by Barry Martin
---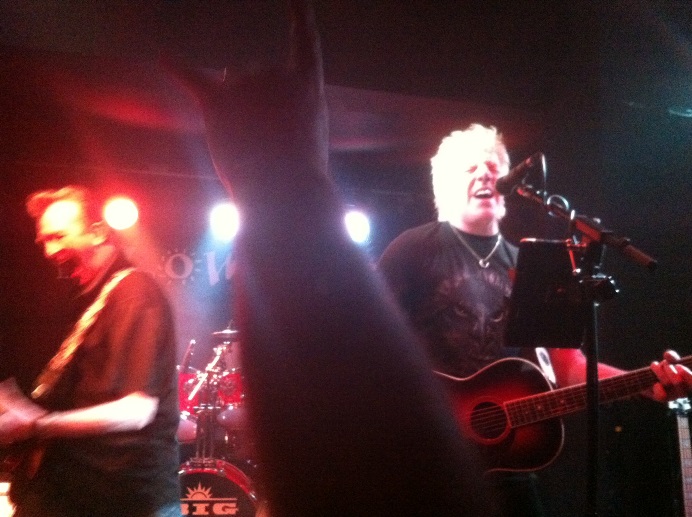 80's legends B.C. turned downtown Derby into uptown Dunfermline as they treated a packed 'Pot to a knockout,rock-out night of nostalgia.
The Flying Scotsmen first fired up their faithful fans with some of their greatest top twenty hits The Teacher,Look Away,Seer and One Great Thing.
With five gold and platinum albums and just shy of 10 million sales worldwide,these Caledonian crowd-pleasers knew what they were doing from note one.
Stuart Adamson(rock in peace,matey), the band's original keystone, had a brilliant replacement in Simon Hough,who orchestrated the singalong,bouncealong,fist-pump fare of raucous.,rousing rockin' backed up by the militaristic drum beat and double lead guitar delights.
The William Wallaces of whiddling,the Watsons,axemen father and co-founder Bruce and son Jamie were a pleasure to behold as they soloed superbly all night long, and always looked as if they were having the time of their lives.
The Flying Scotsmen were now full-steam ahead as they hammered out all-time classics In a Big Country,Chance,Wonderland and Fields of Fire after some less well-known 'Seer' songs.
Cue for moshing mayhem,not just in the pit but all over the room, as the 'Potters and Big C. came together in an awesome Anglo-Scottish musical alliance.
Forget Nicola Sturgeon ! Robert the Bruce Watson for Scotland's new leader !
"We have enjoyed this gig so much,we're gonna do TWO nights next year. Thank you so much,Derby!"gushed a clearly emotional Watson senior as the band took their final bows.
This was just one of those special,special nights for which Alan and Lisa's Rawpromo team is increasingly getting known .
I would have liked to hear Save me,King of Emotion and East of Eden but they do say -leave 'em wanting more,don't they!?
9 1/2 out of 10. It would have been 11 1/2 (see above.) Still a Fab 5 stars. All of 'em.
Big Country are - Mark (drummer Man) Brzezicki on percussion (Great ) Scott Whitley on bass (Bonnie Prince) Jamie Watson on lead guitars and vox Bruce (the Daddy of Scottish rock ) Watson on lead guitars n vox and S.A. soundalike Simon ( Legend in the making ) Hough on lead vocals and guitars.
35 years on the road n still riff-ripping it up .They took us way past Wonderland. Awesome.