20/2/2015
Ali Clinton Band
Review by Dave Kingsbury
---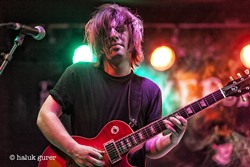 Arriving at the venue, we heard the bad news: no Stan Webb's Chicken Shack because of a van breakdown. The good news was that the support act had agreed to play a full headline set instead. The Leicester band was new to us but somebody told us they were good.
This turned out to be an understatement. Singer and guitarist Ali, bassist Will Ganner and drummer Owen Thomas seized their opportunity with both hands – well, all six and a pair of legs to boot! They proceeded to play a killer ninety-minute set with fire, passion and real expertise that kicked any vestiges of disappointment right out the window.
Ali is a phenomenal guitarist, effortlessly alternating rhythm and lead playing in the style of his idols Jimi and Stevie Ray. For crossover appeal there was more than a touch of Celtic magic inspired by the likes of Rory Gallagher and Pat McManus, giving Ali a real edge in a crowded field. His vocals were strong and carried genuine conviction into a fine mix of covers and originals. There were exciting versions of ZZ Top songs 'La Grange' and 'Tush', SRV's 'Stone Cold' and Hendrix's 'Little Wing' and 'Purple Haze'. A particular highlight was a Led Zeppelin medley with, if I'm not mistaken, a quick swerve into Black Sabbath. Original songs were high-quality, with powerful melodic hooks, such as the opener 'Lost Me', 'Second Time Around', 'Got Me Crying' and a compelling 'Her Eyes' as an encore. They should have no problem finding good material for their forthcoming album!
The three played with tight rapport, their well-rehearsed dynamics leaving plenty of room for thrilling flights of improvisation. This gutsy and assured stand-in performance was a very unexpected pleasure and I look forward to seeing them again, perhaps as headliners in their own right.