19/4/2008
Danny Bryant's Redeye Band
Review & Photo by Victoria Wilcox
---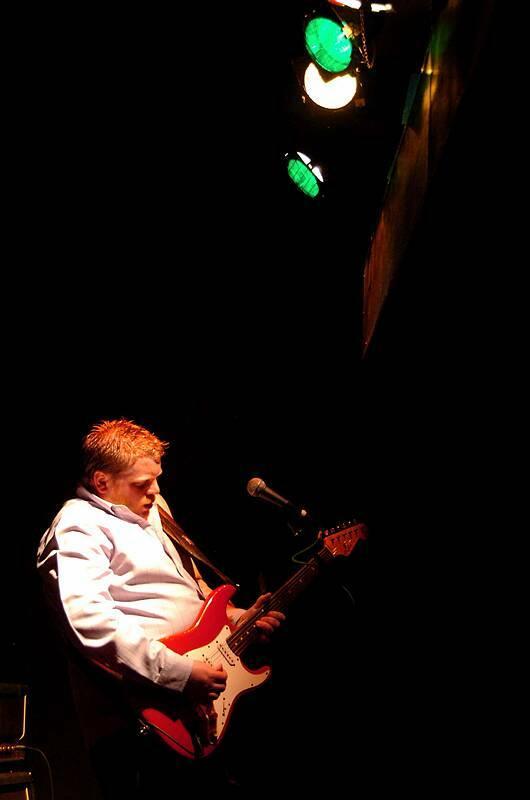 Bryant arrived with some gutsy guitar and filled his programme with a mixture of Blues, Rock and Slide. His throaty and gravely voice hooked the crowd and our knees were soon bouncing to his music. With at least five albums under his belt on sale at the back of the room on the merchandise table, he was not going to be short of original material for the night.
The three piece band looked compact on stage, and it struck me as unusual to see Danny Bryant on lead alongside his own father Ken on electric bass. Sometimes Danny seemed to duck into the dark shadows at the front of the stage during his riffs as if he wanted to cross over and share his electric energy with the front row.
His style is reminiscent of the legendary late Stevie Ray Vaughan as he delivered mainly Texan Blues. He left the strings to talk as he tiptoed around tunes then stepped things up for crashing, thumping solos. His quieter moments were often the most powerful as he brought hush to the audience that was hanging on his every note.
The obligatory random raspy 'Yeah!' was forthcoming from plenty of his new fans as it was impossible not to show our appreciation between the applause. At times he truly made his instrument sing. His fancy impromptu slide using a beer glass brought some unique sounds to the close of his performance.
Despite more than a passing resemblance to Chris Moyles, when I closed my eyes I heard Jon Bon Jovi. Meanwhile he certainly plucked his own sound from the room and swirled it around before it rested well on our ears.
This European tour is entitled 'Black & White' and yet there are many shades of glittering grey in-between.